Creation of EPTA-BELGIUM W-B
On purpose of late Prof. Sebastian BENDA, Hon. President of EPTA-Austria, Carola Grindea agreed to create EPTA-BELGIUM Wallonie-Bruxelles in 1990 with Diane Andersen as president, Jean-Luc Balthazar, treasurer and Carlo Giannone, secretary.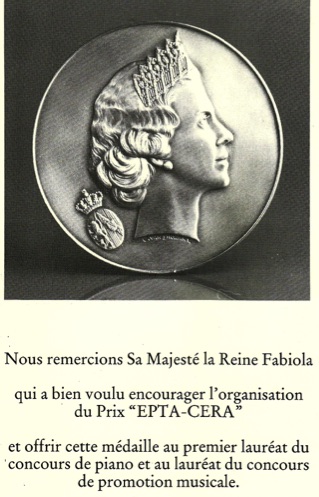 Starting work
The first important and successful international conference was held in 1992 in Namur Theater with great names like Carola Grindea, Edith Picht-Axenfeld, Jacques Chapuis, Frédéric Gevers, closing the conference with a memorable recital by late Lev Vlassenko.
EPTA-BELGIUM's organising talents made apparently a big impression on some sponsors who sustained our efforts during three years. Was then created the EPTA-CERA Prize (with the name of our bank sponsor) a national competition for pianists in all sorts of combinations, solo piano, piano trio and piano duo and which was honoured by the former Belgian Queen Fabiola by giving a medal with her engraved profil to the winner of the competition.
Edgar Willems method teacher's training course
During this "golden" period one of our important achievements was the creation in Belgium of a Edgar Willems teaching diploma. The only authorised teaching specialist at that time was Jacques Chapuis, also President EPTA-France, who ran the program during three school years from 1994 to 1996. Nine out of twenty students succeeded getting the Willems teaching diplom. The method is used since then very successfully in our country.
EPTA-Belgium Pedagogical days
Many topics have been focused on during the years and some of our most interesting week-ends were dedicated to "Which learning method do you use and why" (1997), with Olga Moguilevski, Garett List, Fritz Emonts, and in 1999 to professional diseases. "Does one need suffering to be a musician?" was brilliantly disputed by a panel of specialists: Carola Grindea, Dr Wynn Parry, Françoise Denayer and Dr Quoidbach. The 2009 section was devoted to "Creativity in piano lessons" and "Memorising" featuring Paula Defresne, Vincent Mossiat, Grazia Previdi, Sachiko Yoshida, Marie-Dominique Gilles and Arnould Massart.
EPTA European conferences
We had the honour of organising twice the EPTA annual conference and AGM.
In 1995 we suddenly got a phone call from Carola asking us if we could host the 17th EPTA annual conference. The delay was very short and we were newcomers, not knowing really what it meant, so we agreed to the project not knowing what kind of work it was!! But we survived and it turned out to be a wonderful event. The thema was "Two pianos music" and attracted 150 colleagues to La Marlagne, a lovely place in the woods near Namur. The closing night was devoted to the final of the EPTA-CERA competition for two pianos duo with the Belgian National Orchestra.
In 2002 the 24th EPTA conference was held in the very beautiful foyer of the Theater in Namur where we greeted around 200 participants. The audience could also listen to the concert of the prize winners of the 2nd "Rencontres Internationales des Jeunes Pianistes".
EPTA-Belgium W-B Piano Competition
EPTA-BELGIUM W-B piano competition "Les Rencontres Internationales des Jeunes Pianistes" was created for the 10th anniversary of EPTA-BELGIUM in 2000.
Beginning modestly with three age categories for solo piano and piano four hands it has since 2006 developed into an important competition for young pianists up to 24 years of age with young pianists coming from all over the world. EPTA-BELGIUM W-B was one of the first competitions of the kind offering a master class for the participants given by the jury members during the competition.
We are having the pleasure of welcoming many EPTA teachers and their students, many of them like Ivan KRPAN, Piotr PAWLAK, Florian NOACK, Grzegorz NIEMCZUK, Liebrecht VANBECKEVOORT, Inga FIOLIA became also prize winners in other important piano competitions the world over and have developed a brilliant career.