Pianist, musicologist, poet Victor Chestopal was born 1975 in Moscow into a family of musicians, writers, scientists and artists. His first piano lessons, at the age of five, were under the guidance of his mother, Professor Victoria Yagling (1946-2011): a cellist and composer, a former student of Mstislav Rostropovich. At the age of six, Chestopal was enrolled as a pupil at the Gnessin Music School and three years later at the Central Music School of the Tchaikovsky Conservatoire. There, his teachers were Tamara Bobovich, Alexander Mndoyants, Professors Lev Vlassenko and Mikhail Pletnev.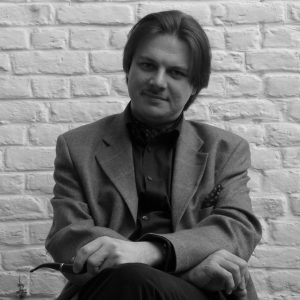 At the age of twelve, Chestopal performed Mendelssohn's Piano Concerto No. 1 in G minor in Saratov and the following year gave a recital at Moscow's Rachmaninoff Concert Hall. In 1990 Chestopal won the First Prize at the "Carlo Soliva" International Competition in Casale Monferrato (Italy), and in 1991 played before Pope John Paul II at the Vatican as a soloist in Prokofiev's First Piano Concerto with the Russian National Orchestra conducted by Mikhail Pletnev.
Chestopal has lived in Helsinki since 1990 and became a Finnish citizen in 1997, graduating with a Master's degree from the Sibelius Academy in 2001. His studies at the Sibelius Academy were under the guidance of Professors Vitali Berzon and Erik T. Tawaststjerna. During his studies at the Accademia Pianistica "Incontri col Maestro" in Imola (Italy), 1992-1997, and at the Hochschule für Musik Franz Liszt in Weimar (Germany), 1995-1997, Chestopal was tutored by Lazar Berman. In 2001-2002, Chestopal had an opportunity to play several times for Mstislav Rostropovich.
A prize-winner of several major piano competitions Chestopal has performed all over the world, appearing in concert halls such as the Palais des Beaux-Arts in Brussels, Salle Gaveau in Paris, Schauspielhaus in Berlin, Herkulessaal in Munich, the Great Hall of the Moscow Conservatoire, Kolarac Hall in Belgrade and Finlandia Hall in Helsinki.
Victor Chestopal has been a guest at many festivals, such as the Festival de Wallonie, Naantali Festival, Janacek May, Brancaster Midsummer Music, Carl Orff Festival, Ascoli Piceno Festival.
Chestopal has appeared as a soloist with such orchestras as the Moscow Philharmonic, the Russian National Orchestra, the Helsinki Philharmonic Orchestra, the Finnish Radio Symphony Orchestra, the Janacek Philharmonic, the National Orchestra of Belgium and the Orchestre Philharmonique de Liège, the conductors including Mikhail Pletnev, Hugh Wolff, Dennis Burkh, Pierre Bartholomée and Aleksandar Markovic among others.
In the domain of chamber music, Victor Chestopal collaborated with Victoria Yagling (over 20 years), Arto Noras, Michael Flaksman, Xavier Phillips, Pavel Berman, David Grimal, Tokyo String Quartet and other artists and ensembles.
In 2010 Victor Chestopal became a Doctor of Music at the Sibelius Academy.
Since 2018 Victor Chestopal is a piano professor at the Conservatoire Royal de Bruxelles, where he is a chairman of the Keyboard section.
http://www.conservatoire.be/etudes/enseignants/victor-chestopal.html